Here comes Summer: the brightest, the buzziest – and when it comes to having fun, the busiest – time of the year with everything played out against a backdrop in brilliant technicolor.
It can be party central from dawn to dusk: the sun, the sea, the sand – and anything else beginning with 's' you might care to think of – by day; and then chilling out whilst enjoying a bit of banter over a drink or several with friends by night. What's not to like.
There's surely no better time to let it all hang out – and a golden opportunity for showing off that six-pack. But steady the buffs before you either strip off that t-shirt – if you're one of the fortunate few – or else sign up at the gym for a quick fix (if you're one of the greater bulk of the population).
The six – or any combination multi – pack we're on about is shop-bought rather than home-grown: designed to carry a full round of chilled cans of well-brewed beer or lager; each held by the rim within one of a series of wafer thin inter-connected plastic collars.
Resembling some sort of ingenious origami, the WaveGrip has until now been wholly (or 'holey'!) focused upon efficiently and cost-effectively serving up the drinks with the minimum of fuss not to mention material – unlike most of the other multi-pack solutions on the market.
Now with the introduction of WaveGrip Color its' modestly unobtrusive contribution towards helping to slake the nation's thirst on the go is about to be far more visibly recognised.
Visibly demonstrating that discretion is not necessarily the better part of valour when it comes to making a branding statement, WaveGrip is putting its customary opaque look in the shade and breaking out in full color instead.
Initially available in a range of Noir (Black), Tangerine (Orange), Envy (Green), Fury (Red), bespoke colors can also be specified on demand to reflect a particular brand or design. Whilst the rim carrier performs to precisely the same reliable standards as it always has, it very definitely appears to be doing so in a far more eye-catching way.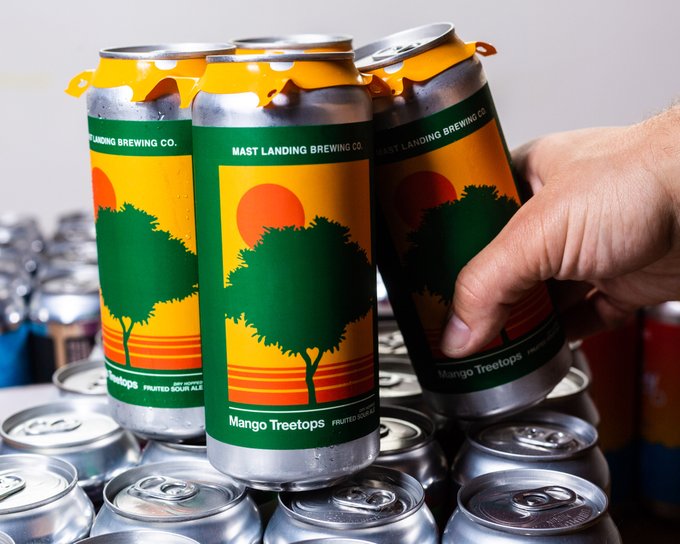 High impact colour
Colour has long been recognised as a high-impact element within a well-designed packaging solution; for any number of beverages, quite often its 'hero image'. Think Tango. Think Perrier. Think Coke. Think Guinness.
For a consumer in a hurry it can be the guiding beacon that triggers the seamless progression from eye to hand to shopping trolley. And as part of the way in which that outer packaging presents itself, it has a vital role to play in helping to deliver a fully satisfying customer experience.
Extending an established colour code that runs right through from the primary packaging to the delivery mechanism is a simple yet stylish additional point of branding differentiation from the competition that not only looks in keeping but also makes perfect sense.
Whilst WaveGrip's immediate future is orange – and green, red or black too – don't be at all surprised to see it blossom out into a galaxy of additional colours as time goes by. There are other exciting opportunities in prospect too; but more of that later!
The way in which we look at a six-pack is never going to be the same again.
Contact us today to find out how WaveGrip Colour can deliver for your 4,6 or 8 packs! hello@wave-grip.com
The post Can do colour! appeared first on WaveGrip.