With December here, what better way to celebrate than a WaveGrip blog all about two things we love… Christmas and beer. More specifically, Christmas-themed beers. This blog is all about which ones (…in our humble opinion) you should be getting your hands on this festive season.
1. Sticky Little Fingers - The Amundsen Brewery
First up, The Amundsen Brewery's Sticky Little Fingers is arguably one of the coolest Christmas beers you ever did see. With artwork including a cool, snowboarding Santa, this beer tells you everything you need to know with its awesome design. But let's take a look at what's inside, too…
It's described as a 'toffee cinnabun' flavoured Ultra Imperial Pastry Stout – and with flavours like cinnamon and toffee, this one is certainly sweet, tasty and super Christmassy.
(Not officially on our list, but we just have to point out this festive beer's sibling named 'Christmas Tart', also by Amundsen – essentially, a chocolatey orange and ginger cinnabun tart version of Sticky Little Fingers. So, if that sounds like your thing, we'd recommend that too!)
https://www.amundsenbrewery.com/seasonals/sticky-little-fingers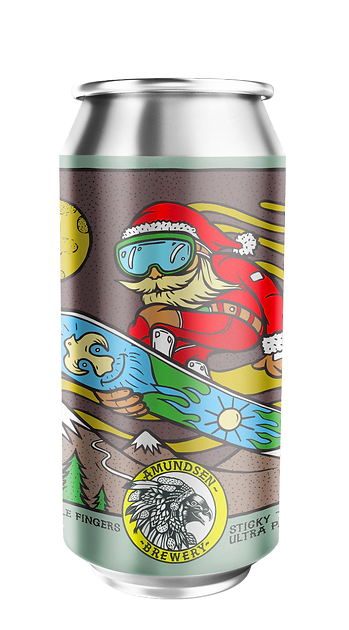 2. The Fairy-tale of Brew York – Brew York
The Fairy-tale of Brew York (we like what you did there), is our next Christmas beer recommendation. This nutty little stout takes inspiration from German Stollen. Flavoured with marzipan and pistachio with notes of 'candied lemon and orange with a spice blend of cinnamon, cardamom and allspice' this deliciously thick, creamy-bodied stout is definitely worth a try. You can't tell us this isn't just Christmas canned!
Of course, the design aspect is no different and perfectly encapsulated Christmas, featuring a cute reindeer and friendly-looking snowman (we told you, it's Christmas in a can!).
This one's a seasonal classic for Brew York and brewed every year, so if you've missed it in the past, there's still chance to get yourself a pint of it this festive season.
https://brewyork.co.uk/product/fairytale-of-brew-york-2022/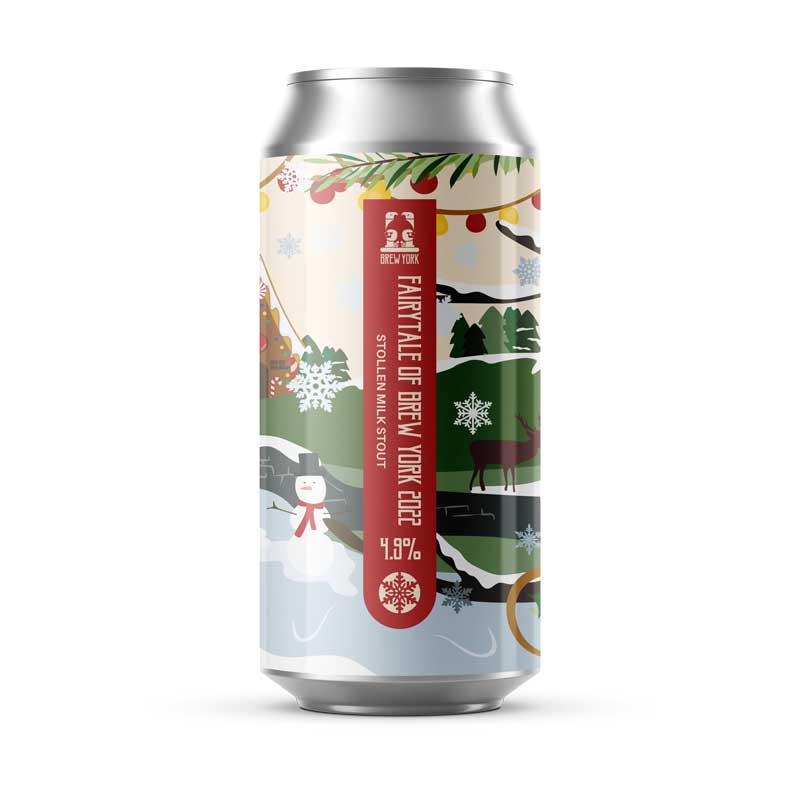 3. Fistmas Christmas Ale - Revolution Brewing
Revolution Brewing's Fistmas Christmas Ale is exactly what the name suggests – a strong ale punch at 6.5% ABV with a yeasty baked bread flavour with notes of caramel and stone fruit.
If the name wasn't enough, the artwork printed around this can is pretty epic and definitely makes this beer one that'll stand out in a crowd.
https://revbrew.com/beer/seasonals/fistmas-ale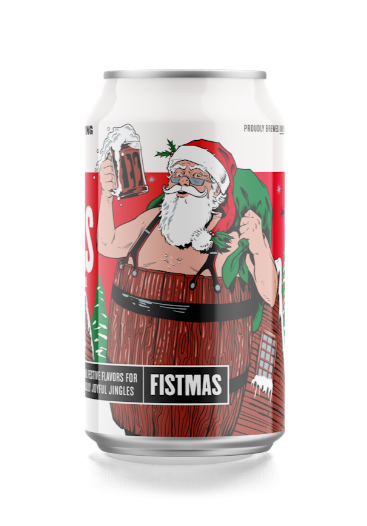 4.St. Bernardus - Christmas Ale
Next up, it's the classic St Bernardus Christmas Ale - and if you thought the Fistmas ale was a strong contender, prepare yourself for this darker ale with a whopping 10% ABV.
As you know, we aren't bottle people. We love a can here at WaveGrip, but this classic Christmas beer just couldn't be missed from our list.
A thick, fairly creamy ale with traditional Belgian flavours alongside cherries and Christmas spices - this warm, fruit ale is a festive favourite for many.
The design is cosy and traditional – just look at how happy the guy on the bottle is?!
Let us know if you're smiling like him after a pint or two… at 10%, we imagine you probably will be.
https://www.sintbernardus.be/en/brewery/our-beers/stbernardus-christmas-ale-en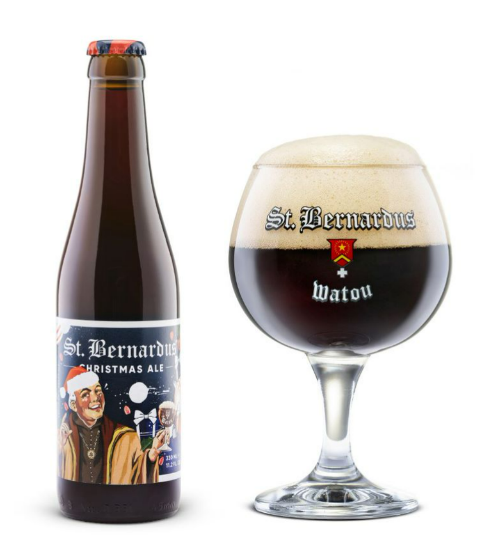 5. Great Lakes - Christmas Ale
Last but by no means least, Great Lakes Christmas Ale – featuring honey, cinnamon and ginger flavours, follows all of the Christmas rules in our book.
On the packaging side of things, you can buy it in both bottles and cans (guess which one we prefer). And the Christmassy scene printed on the label almost transports you into a Winter wonderland.
Don't just take our word for it… this ale is an impressive 6-time medal winner of the World Beer Championships, winning Gold and Silver.
Great Lakes Brewing Company say to pair this ale with an ugly Christmas sweater and you're good to go!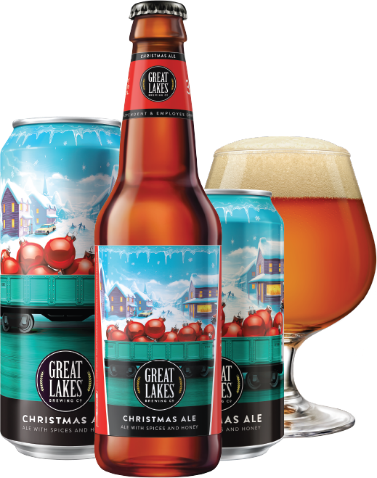 Merry Christmas and a Hoppy New Year!