When you stumble upon the beer aisle in most supermarkets, you'll often now find a display of impressive, colourful art wrapped around some of the cans. Particularly in the craft beer world, this is exactly what will set you apart from other quirky brands for consumers in a hurry, glancing over the shelves.
By covering a can in such unique designs, it becomes a 360-degree mini canvas for the brand's personality. It allows breweries to speak directly to the consumer and give them a feel for exactly who they are.
This eye-catching can art is on the rise, with more and more breweries adopting creative ways of decorating beer cans. With the increase in cool designs, there is also a requirement for suitable packaging and carriers.
As you may well have worked out, at WaveGrip we believe the carrier that holds it can be just as important as the can itself – therefore, choosing a carrier that's harmonious with your design is crucial.
Multi-packaging ring carriers aren't going to obstruct your art
WaveGrip's classic plastic carriers can be used a subtle, non-distracting carrying solution by opting for a clear or plain option.
When looking for something to complement the can art and maximise brand impact, you can go for our coloured carriers, to match your style. Our carriers can enhance designs to make you stand out from the crowd or support your brand uniformity, the choice is yours.
Still unsure? The carriers also come in two different application options, one being a rim applied carrier and one being side applied, thus becoming further adaptable to a range of designs and branding, depending on your placement.
If your art is very visual, like our friends at Mast Landing – you're going to want to lean towards a rim applicator so that your design can be star of the show. Their current seasonal special is a Double Dry Hopped IPA named 'October Sun' and is perfectly complemented by our orange-tone coloured carriers to match the autumnal branding on this can.
Alternatively, if you're a brand that likes to keep it bold and simple with a striking logo and heavier branding towards the top or bottom of the can, a rim applicator applied just above or below your logo will be your best friend.
Our plastic carriers are also recyclable and made up of 52.5 per cent PCR (post-consumer recycled material), they can be recycled at PE firm collection schemes.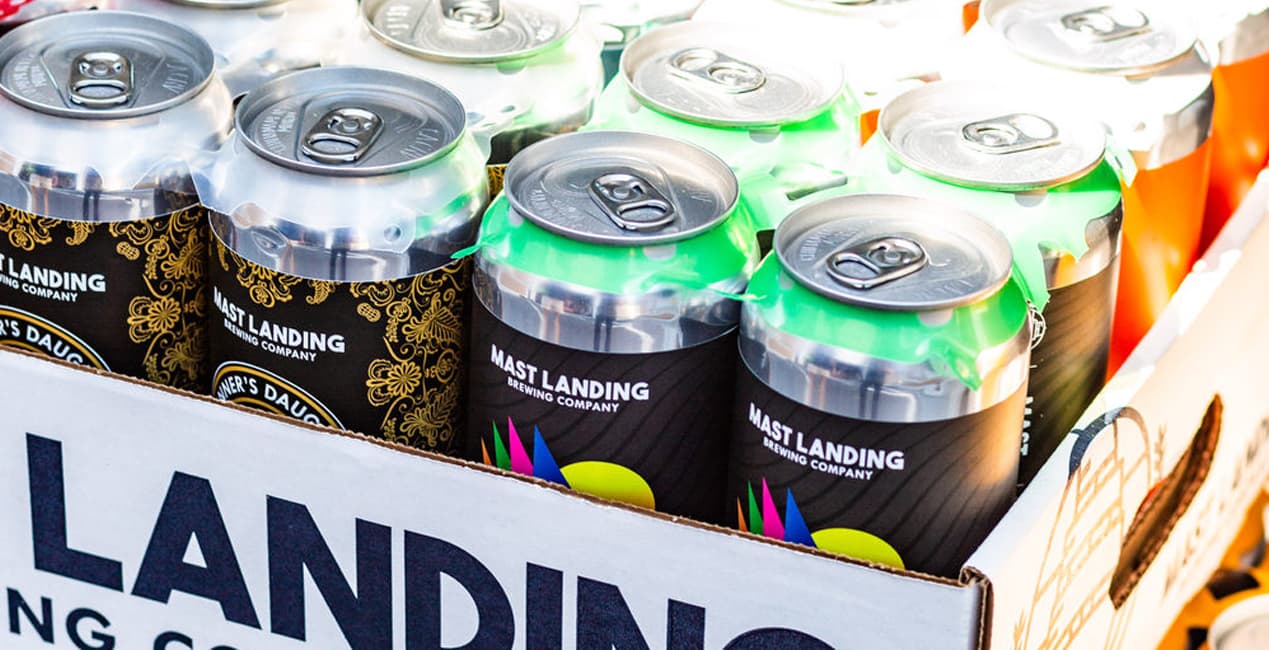 Cardboard can carriers provide a blank canvas
We still understand that consumers are on the lookout for environmentally friendly packaging options and moving away from plastics altogether, but when it comes to beverage carrying it's also important that the carrier is strong, lightweight, and robust enough to do its job.
That's where our cardboard range comes in…
WaveGrip cardboard carriers weigh under 8 grams but retain their reliability. These biodegradable carriers also offer a plain, blank canvas with a coated topside designed for printing with ease to customise with your branding or promotion offers.
This is a great option if you're an environmentally conscious brewery but still need a sturdy, reliable carrier that doesn't block out the can art like cardboard boxes do.